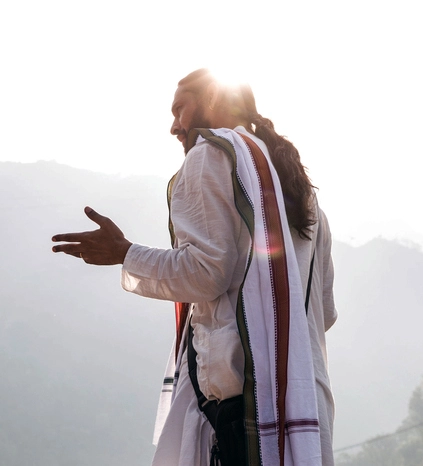 Ignite the Fire Of Transformation in You
---
Yogi Ram began his study of yoga more than three decades ago. Having been born and raised in an Indian traditional Hindu family where he gained the knowledge of Indian traditions as a part of his life. Fortunately, he grew up in the company of Saints and Yogis, so at a very young age, he felt a strong urge to delve deeper into the mysteries of the essence of the self and live an altruistic life. Ram completed his Masters in yoga from Uttarakhand Sanskrit University.
During his university years, he became fascinated with the holistic yogic life and left his established music business and modern life ambitions to explore the beauty of silence and self-contemplation. Ram spent more than 30 years in self-practice and learned the art of enjoying different colors of life. The curiosity never ended here, it took a spark and he pursued strict guided practice for more than 12 years.
His Nostalgic instinct didn't end here too, it just found its way to a next-level journey to laying the foundation of Himalayan Yog Ashram. As a professional instructor well versed in a holistic approach to mind, body, and soul, he brings to his students a depth of experience in meditation and really can ignite the fire of transformation in the aspirants.
Yogi Ram believes that in order to receive silence one should be sincere and the intent should be there, with his massive teaching experience of over 21 years he has trained many students at Himalayan Yog Ashram who are now internationally acclaimed yoga practitioners. He has traveled across India and Europe, including frequent visits to Italy. His participation and contribution towards the multi-level yoga conferences/programs at National and international forums have been instrumental.
He loves nature and enjoys the sound of water droplets falling from the sky, cold whizzing sound brushing through the heart. Ram, as a mentor has always encouraged his students to shake the minds and hearts of people in order to bring connection between conscious and subconscious mind. Yoga has provided him with new tools to face the lessons in life, and new enthusiasm to explore the unknown. It is often said in yoga that you are as young as you keep your mind and spine flexible.
Won't you join the team of accomplished teachers to attain peace and manifest your potential of transformation.