200 Hour Yoga Teacher Training in Rishikesh
Oldest and refurbished Yoga school in Rishikesh with necessary modern amenities
Himalayan Yog Ashram offers a Multi Style Yoga Teacher Training in Rishikesh while keeping authenticity of Hatha yoga as it came from lineage. Hatha yoga is the source of all styles of yoga practice, without compromising with values and teachings of hatha yoga we made a blend of Hatha yoga, ashtanga and vinyasa.
in todays life there are needs for teachers and students to have more skills to help there people physically, mentally, emotionally, and spiritually, for that need to know and learn different styles of yoga to bring good health, well-being and wisdom with authenticity of Yoga.
We have structured an intensive 200 Hour Yoga Teacher training in rishikesh which includes the necessary paths in order to process and integrate the learnings into your subconscious.
Become a magnificent Certified Yoga Teacher.
You Will Get:

Pranayama and Mantra

Yoga

Methodology, Anatomy

Self study and silence time

Yoga Therapy and Alignment

Meditation/Yoga Nidra

Satkarma

Two Ayurvedic meals

Day time Fruits

Excursions

On demand vegan or gluten free meals

Yoga Alliance, USA Certification

Small group

Free Sound Healing Class

Every Sunday fresh towel and bedsheets

Private Bathroom and Balcony in every room

Free safe drinking water from water purifier

Ayurvedic Tea corner

Manual and notebook -Satkarma kit
Our aim is to awaken the teacher within you and provide you with a solid foundation for taking your own yogic practice to a whole new level so you can teach by your self-experienced wisdom and knowledge instead of mental knowledge.
What you will learn in this 200 Hours Yoga Teacher Training Course:
You will learn philosophical knowledge about Yoga, using Patanjali Yoga Sutras. This is by far an eye-opener part for most of our students. It gives a deep understanding of how yoga keeps you active and recharged and how to expand your consciousness beyond and above. It is the art to perform the different practices on a physical, mental, spiritual, and emotional level in 200 Hour Yoga Teacher Training in Rishikesh.
You will learn to teach 60 asanas. What are their effects, how to build them up, how to come into perfect alignment, what are the benefits, and what are the restrictions. And how to perform the different asanas on a physical, mental, spiritual, and emotional level effectively.
You will study in-depth 18 key - asanas. In this in-depth study, you will experience yoga on a totally different level. Here true Yogic secrets will be revealed to you.
You get a comprehensive understanding of yoga anatomy and its application in 200 hour ttc to avoid potential injuries in your class and your own practice. (Note: Anatomy sessions are taught and explained in a yogic point of view which are different from normal anatomy lessons made for medical professionals)
You will practice Pranayama, Mudra, Bandha and Shatkarma, also learn how to teach these techniques to your students.
You will learn from our experienced and master practitioner, the knowledge behind meditation, the practice, and how to guide your students into meditation.
Mantra chanting is a self-loving way to connect to your inner bliss. Mantra chanting is something you can pass to your future students by experiencing the benefits of it for yourself. It's a sacred practice to unite within. This is part of our curriculum.
Profound lifetime experience in yoga teacher and meditation retreat in Rishikesh, India
---
Your teacher training is officially recognised by Yoga Alliance and for this reason our students receive a 200 hours certificate [RYT 200].
Every year we have the pleasure to organise yoga teacher trainings in the Himalayan Yog Ashram. Hundreds of people from all over the world joined us and became teachers.
Himalayan Yoga school in Rishikesh is the Only school which teaches to small group in order to provide quality teachings and to reach to each person who need help, in big group its not possible.
In Himalayan Yoga Ashram in Rishikesh, you will be able to spend a period of retreat, exactly as it happened in the past centuries. During this 25 days you will have the opportunity to awake the teacher that is in you and you will have the time to absorb the teachings received.
Breaking the patterns or more of the same
Yoga TTC in rishikesh is an opportunity to break the patterns of distractions of regular life, such as partying and an unhealthy lifestyle.

To experience clarity and integrity with self empowerment, it is a time to encourage and motivate mind to go for self contemplation and self realisation.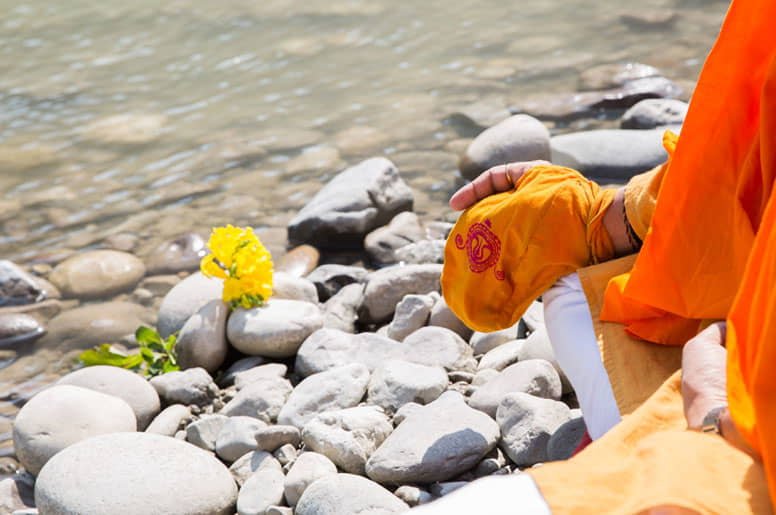 Frequently Asked Questions
The science of yoga evolved from the ancient Indian textbooks as the art of the complete well-being of the human being. In modern days, yoga is often considered as the way to achieve physical fitness, but when you turn the pages of Vedic history, yogic science is much more than that.
Thus, a person doing yoga regularly can keep him or her physically, mentally, and emotionally stable in the tough modern times. This is the fact that we can sense a boom in the yogic industry all around the world. Yoga Retreat in Rishikesh at Himalayan Yog Ashram is the best means to start your yogic career.
As described by our ancient Rishi, Munis, and Yog Gurus, yoga is the best way to keep yourself active and recharged. This activeness is not only physical, but it involves mental, spiritual, and emotional well-being too. Yoga helps in calming down our minds to connect to the soul. Moreover, it eventually leads to the utmost state of happiness and self-awareness.
No Yoga is not a religion. Yoga is a way of life and spiritual practice that activates the master within you. That leads you on the journey of Self Realization and Self Mastery. Yoga guides you inwards to connect with essence and the Master within
To start your career in yoga, there are many ways but the most recommended world throughout the globe is Yoga Teacher Training Programs by Yoga Alliance. Yoga Alliance is the registration mark for a worldwide accepted accredited Yoga Teacher Training, so it gives you a valuable Certificate to kick-start your career in the field of yoga.
Link: Yoga Alliance Profile
Our 200 Hours Yoga Teacher Training in Rishikesh is the first step of your yoga career. This 25 days Yoga Teacher Training Course helps in understanding the basic concepts of yoga. Also, during the course, you will come across various yoga asana and styles. As a beginner-level yoga student, this course will benefit you by practicing the basic level of yoga postures. 200 Hours YTTC is the best way to start your healthy and energetic yogic journey.
Rishikesh, India is the home of Vedic learning for thousands of years and authentic yoga learning. Ancient saints used to choose the sacred land of Rishikesh for their journey of self-attainment. Spirituality is really in the air here. On one hand because of the Himalayas and on the other hand because of the holy Ganges. Both are two powerhouses of sacred frequencies that lift Rishikesh to a totally different level of vibration than many other places in India.
Himalayan Yog Ashram is one of the oldest Yoga School in Rishikesh which imparts classical Indian yoga wisdom and knowledge. We aim to transform a yoga aspirant into a true Yogi. For us, a yogi is a person who attains mental, physical, and emotional stability from the art of yoga.
Our yogic education is a mixture of Yoga Asana, spirituality, and the process of self-attainment. We like to transform what we got in the past from the famous Rishi Munis. Thus, Yoga learning in Himalayan Yog Ashram is a journey to attain calmness and oneness.
Our yoga school in Rishikesh is registered with Yoga Alliance and follows all the set rules and regulations accordingly. The course curriculum of our yoga school is derived from ancient yogic literature with modern essence. Our Yoga School offers you a deep knowledge of Yoga, Meditation, Pranayama, Ayurveda, and Yoga Nidra along with the continuous practice of Yoga Asana.